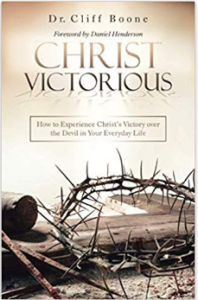 In Christ Victorious, Pastor Cliff Boone explains what it means to resist the devil and why it is important to do so. After over thirty years of missionary and pastoral experience he is not surprised to hear questions like:
How can I tell if my temptation has a demonic element?
I know that we are told to resist the devil, but how do I do that?
How much influence can Satan have over a Christian?
Is there a way I can protect myself and my children?
Are my weird and frightening dreams because of evil spirits?
This topic makes me afraid. Why can't I just ignore it?
Spiritual warfare is a blind spot for most American evangelical churches. This book is aimed at helping us overcome our ignorance on this important issue. Rather than be afraid and defeated we can be equipped to experience Christ's victory over the evil one.
Pastor Cliff Boone is the senior pastor of Cedar Crest Bible Fellowship Church in Allentown, Pennsylvania.
The book is available through Amazon or Barnes & Noble. Amazon Prime has it currently ranked as their #1 selling new release for books dealing with Christian Adult Ministry.